Preparation and Planning
A successful expedition of any kind frequently depends on the amount of thought and care put into the trip in advance.  Detailed planning and thorough preparation are essential to the achievement of expedition goals, and making the most out of valuable time and money.  Make sure almost all eventualities have been anticipated can bring peace of mind.  However, planning and preparation are often extremely difficult, particularly when operating in remote areas and unfamiliar countries and terrain.  Wild Things Logistics is here to help!
Our dedicated team of professionals are experienced in a wide range of expeditions, research trips, field trips and adventures, and can assist with everything right down to the smallest detail.  Whether you are undertaking geological explorations for a geothermal plant, or you need someone to help select ideal locations for a photography shoot; you are planning to conduct a detailed biodiversity survey, or you could do with some guidance through the minefield that is Tanzanian permits and licensing regulations; we can provide all the support you need.
Itinerary and route development and planning
Not sure where to go to get the best results for your expedition?  Have a particular location in mind but no idea how to get there? Want to string a series of places together but unsure of the local geography?  Wild Things Logistics can help you design your itinerary.  With in depth knowledge of Tanzania, from its most well known areas to its most remote nooks and crannies, we can find you the best places for your trip and put together a realistic itinerary for the duration.  Our experienced staff know where things are and how far apart they are – they know what the roads are like, if there are roads at all, and what the transport options are – and they understand the need for a balance between time allocated on site and time for travelling.
Reconnaissance of potential locations
We can send a member of staff out to check out your spot in advance
Support in obtaining necessary licenses and permits
With years of experience negotiating the tricky waters of licensing, permits and access restrictions, we can help you with your paperwork and guide you through the bureacratic maze
Booking and hiring of accommodation, equipment, vehicles etc
Making arrangements for setting up a base camp
Expedition Staffing and In Country Support
Once on the ground here in Tanzania, the expedition suddenly seems very real.  A diverse range of equipment, personnel and support is necessary to make sure you achieve your goals.  This is particularly true if operating from a remote base camp.  Wild Things Logistics can supply you with everything you need to ensure your expedition success.  Each trip has specific needs and requirements and over the years we have catered for a wide range of clients.  The experience we have gained means that we have a team of dedicated professionals with a network of good people and great equipment able to reach the most remote locations and equip the most unusual of groups.
Our in-country services extend throughout your stay, from the moment you land in Tanzania throughout the duration of your trip.  We can provide you with the essential support staff you need to reach your destination, set up camp, and get whatever you need to do done.  Clients relax knowing that whatever their needs, even the most unexpected or apparently insurmountable, Wild Things team will work tirelessly and spare no expense to ensure you meet your goals. Services include:
In country crew of experienced mechanics, cooks, drivers and porters;
Guides with specific expertise in wildlife, geology, ecology;
Provision of all camp equipment, vehicles, transport, comunications etc;On going support & liaison with government licensing and permit agencies, immigration offices .CX-310-019
Bespoke adventures for private groups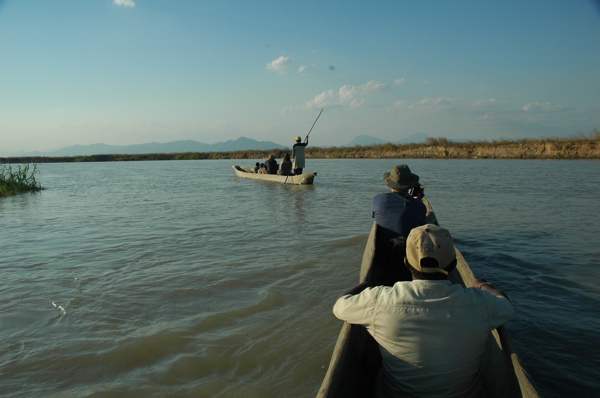 Adventure expeditions across Tanzania for those who simply want something far, far, FAR from the madding crowd … Remote river kayakking, helicopter drop and hike, mountain trekking, bush walking – you name it we'll arrange it!
Contact Us for further information and to discuss your requirements